The mega attraction on the Big Island is Volcanoes National Park, Hawaii's sole World Heritage Site. The volatile park's centerpiece is Kilauea Volcano, which continues to blow its top and spout molten lava, ash and steam.
Crater Rim Drive is a spectacular driving route, skirting the rim of the caldera, stopping at lookouts and taking you from rainforest to desert.
The eerie and easily accessible Thurston Lava Tube is a long hollow cave-like formation, created by flowing lava.
Another driving route to follow is the winding Chain of Craters Road along the slopes of the volcano to the coast, where lava has pooled from recent eruptions.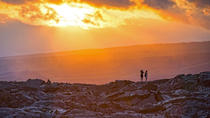 Se lavafälten under en heltäckande dagstur bland Big Islands vulkaner på Hawaii. Du får utforska Volcanoes nationalpark på Hawaii, ... Mer information
Plats: Hilo, Hawaii
Varaktighet: 9 timmar 30 minuter
Språk:

Engelska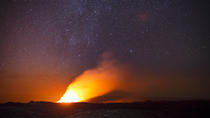 Upptäck Big Islands sevärdheter på den här guidade heldagsturen från Oahu. I Hawaii Volcanoes National Park, som finns med på ... Mer information
Plats: Waikiki, Oahu
Varaktighet: 15 timmar
Språk:

Engelska
Se alla Hawaii Volcanoes National Park rundturer och biljetter