A marshy expanse of humid swamps, the majority of the 1.5 million acres that make up the Florida Everglades are inaccessible wilderness. With a visit to Sawgrass Recreation Park, however, guests are able to ride on a high-speed airboat and navigate the same marshes where Seminole Indians once roamed and endangered animals still call home.
Located only 30 minutes outside the urban streets of downtown Ft. Lauderdale, the Sawgrass Recreation Park not only provides thrilling rides over the glassy waters of the Everglades, but also gives visitors the chance to spot alligators living in the wild and other marshland animals such as slithery pythons, black leopards, and the endangered Florida panther.
Morning hours are best during the summer months as afternoons in the Everglades are prone to wind and thunderstorms, although those looking for a unique thrill can take part in the night time alligator viewing sessions which depart into the marshes various nights per week.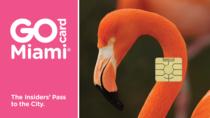 Upptäck Miami på ditt eget sätt med flexibla Go Miami Card. Gör så mycket eller så lite sightseeing som du vill i din egen takt – ... Mer information
Plats: Miami, Florida
Varaktighet: Varierar
Språk:

Engelska