Alaskan Brewing Company
There's many a parched thirst that's been revived by a chilled glass of Alaskan, pure and crisp as the driven snow. The Alaskan Brewing Company has been brewing craft beers since 1986, and winning plenty of awards along the way.
The brewery's free tours offer a behind-the-scenes glimpse into the brewing processes, including the company's original 10-barrel and 100-barrel brewing systems.
You'll come across artifacts from the state's brewing history, admire an international collection of beer bottles and cans, and meet the people behind the beer.
The company produces five regular beers, including Alaskan Amber Ale, Pale Ale, Oatmeal Stout and Alaskan IPA. They also produce limited-release seasonal winter or summer ales and specialty beers like smoked porter, so see what's on tap when you visit.
Rundturer och biljetter
Se alla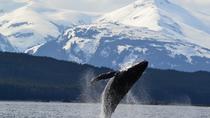 Whale watching och öl är två av Juneau populäraste attraktioner. På den här kombinationsrundan har du möjlighet att uppleva ... Mer information
Plats: Juneau, Alaska
Varaktighet: 4 timmar 30 minuter