Bryce Canyon National Park
Bryce Canyon is the culmination of a series of steplike uplifted rock layers known as the Grand Staircase, stretching north from the Grand Canyon. The park's Pink Cliffs formations are crammed full of wonderful pinnacles, steeples and spires, and weird geological creations called 'hoodoos' sculpted by wind, water and ice.
It may be called a canyon, but Bryce is actually more a series of natural amphitheaters formed by erosion over the millennia. The wind and rain have peeled back the sedimentary layers to reveal stripes of red, orange and white, at heights of around 9,000 feet (2,700 m).
Being more remote than the Grand Canyon or Zion National Park, a visit to this far-flung natural gem rewards you with a true sense of wilderness in its pristine glory.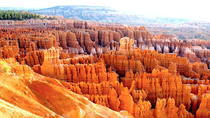 Lämna den hektiska stämningen i Las Vegas och följ med på en dags utforskning i ett av världens mest spektakulära landskap – ... Mer information
Plats: Las Vegas, Nevada
Varaktighet: 15 timmar