Grand Canyon North Rim
The Grand Canyon North Rim retains a sense of solitude, a remote wilderness rich with scenic hiking trails and overlooks with spectacular vistas. The North Rim beckons day hikers, who want to traipse through meadows thick with wildflowers and dense clusters of willowy aspen and spruce trees, and breathe crisp, Alpine air – all under vast, blue skies.
Keep in mind, it's only about 10 miles (16 km) across the canyon, separating the North and South rims. By car it's another story: from the North Rim the South Rim is a 5-hour, 215-mile (345 km) drive. Visitor facilities at the North Rim are open from mid-May to mid-October. Facilities on the North Rim are closed from mid-October to mid-May, although you can drive into the park and stay at the campground until the first snow closes the road from Jacob Lake.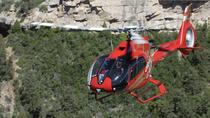 Se den orörda skönheten på Grand Canyons norra kant med helikopter och åk genom Kaibab National Forest på en 25 eller 45 minuter ... Mer information
Plats: Grand Canyon nationalpark, Arizona
Varaktighet: 3 timmar 30 minuter
Språk:

Engelska