Mandalay Bay Hotel and Casino
Though once outfitted with a tropical theme, Mandalay Bay is currently undergoing a makeover that will include an update to shows, dining options and nightlife opportunities. There have also been room renovations and a rebranding of the property's boutique hotel, soon to be Delano Las Vegas.
Mandalay Bay's casino, which has 135,000 square feet of gaming space, will be getting new carpet, chairs and music, but the gaming opportunities will remain similar to what has been offered in the past. The property has more than 1,700 slot machines ranging from 1¢ to $100 per play. Table game favorites such as baccarat, blackjack, craps and roulette can be found throughout the casino. A variety of poker games are available as well, and free lessons are available for beginners Monday through Thursday at 2:00 p.m.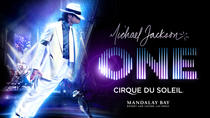 Fascineras av Michael Jacksons kreativa genialitet på Michael Jackson ONE by Cirque du Soleil®. Efter kassasuccén Michael Jackson THE IMMORTAL World ... Mer information
Plats: Las Vegas, Nevada
Varaktighet: 90 minuter
Se alla Mandalay Bay Hotel and Casino rundturer och biljetter