Venetian Gondola Rides
p>What could be more relaxing than experiencing a gondola ride in Venice? The Venetian Hotel in Las Vegas recreates this experience, featuring indoor and outdoor gondola rides complete with singing gondoliers. It's time to transport yourself to Venice.
Experience a first-class ride on a majestic gondola, painted white and gold with elaborate details and decorations. Then, travel through the canals and ride above a man-made lagoon, which mirrors the incredible, sky-painted ceilings. The ride will take you beneath bridges and alongside charming boutiques and cafes, so that you'll feel only steps away from Italy.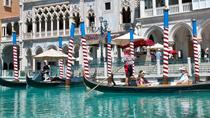 Lägg till lite romantik på din Las Vegas-semester. Njut av Madame Tussauds Las Vegas och en gondolfärd utomhus på The Venetian. Uppgradera ... Mer information
Plats: Las Vegas, Nevada
Varaktighet: Flexibel
Från
USD 54,99
USD 65,95
Spara:USD 10,96