Sure, you can drive through the desert or even walk through the desert with a horse with no name. But there's only one way to really experience the desert and that's on an adrenaline-charged dune-buggy ride!
Get behind the wheel of a one- or two-seater dune buggy, wearing a full-face helmet and harness of course, properly prepped about the ins and outs of driving these crazy-looking vehicles – and you get to drive off-road through some of the most challenging terrain in the USA.
Dune-buggy rides from Las Vegas blaze their way through the Valley of Fire and the Nellis Dunes. You might whiz past big-horn sheep in the red, red desert of the Valley of Fire, a state park 50 miles (80 km) northeast of Las Vegas. This landscape of red sandstone rocks and sand dunes lights up in the sunshine, especially at sunrise and dusk. You'll see rocks eroded into incredible shapes at Valley of Fire, plus ancient petroglyph carvings.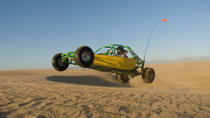 Följ med på Las Vegas snabbaste, mest avancerade och adrenalinpumpande rundtur med beach buggy. Den här rundturen har beskrivits i tidskriften ... Mer information
Plats: Las Vegas, Nevada
Varaktighet: 3 timmar
Språk:

Engelska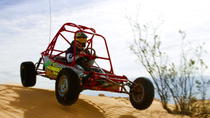 Följ med på en häftig åktur över sanddynerna vid Nellis Dunes i en beach buggy från Las Vegas. Medan du kör över ... Mer information
Plats: Las Vegas, Nevada
Varaktighet: 3 timmar 30 minuter
Språk:

Engelska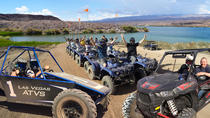 Tillbringa den första halvan av dagen med att färdas genom det nationella rekreationsområdet Lake Mead på den här rundturen med ... Mer information
Plats: Las Vegas, Nevada
Varaktighet: 6 timmar 30 minuter
Språk:

Engelska