While Las Vegas has been perfunctorily touting itself as family-friendly for several years, its "What happens in Vegas, stays in Vegas" marketing campaign and TV commercials featuring scantily clad ladies don't do much to reassure parents that Vegas is, in fact, okay for their offspring.
The Strip is full of restaurants and other locales where people under 18 are simply not allowed, but there are attractions and shows suitable for and, even aimed at, your kids. Spend your evening with the zany guys of the Blue Man Group, or be captivated by Mark Hammer's uncanny sleight of hand as he performs unbelievable magic tricks.
Or wander to the MGM Grand for CSI: The Experience, an interactive attraction where you'll solve a "crime," and MGM's famous Lion Habitat, where descendants of MGM Studio's lion (seen roaring at the beginning of MGM movies) hang out in a replica African environment; CSI is open until 10pm and the Lion Habitat closes at 7pm.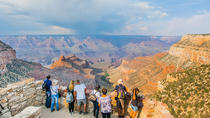 Sätt dig ner och slappna av medan bussföraren kör dig på en tur med reseskildring, från Las Vegas till den södra kanten av Grand ... Mer information
Plats: Las Vegas, Nevada
Varaktighet: 15 timmar
Språk:

Engelska
Från
USD 109,99
USD 229,90
Spara:USD 119,91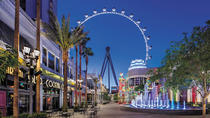 Skaffa en biljett till High Roller, världens största observationshjul, i Sin City. Med en höjd på 168 m lever Las Vegas senaste ... Mer information
Plats: Las Vegas, Nevada
Varaktighet: 30 minuter
Se alla Things to Do in Las Vegas With Kids rundturer och biljetter