Maui Tropical Plantation
For a look at what Maui's agricultural life once looked like, visit Maui Tropical Plantation – a sort of plantation theme park that's also still a working plantation.
Maui Tropical Plantation covers about 60 acres, and was originally designed to turn the island's rich agricultural history into a tourist attraction. There is a tram ride you can take, which includes a narrated tour of the plantation and historic information. You'll learn about crops for which Maui is famous – sugar cane, pineapple, coffee, bananas, and macadamia nuts, among other things. You can even try your hand at husking a coconut.
In addition to the crops themselves, the plantation also features the Maui Country Store, which is full of products made on the island of Maui. There's an on-site restaurant, too, where you can sample some of the fresh fruits you see growing in the fields all around you.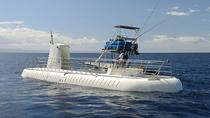 Med Maui Value Pass får du inträde till fyra familjevänliga attraktioner på Maui till ett enda lågt pris. Följ med på ett ... Mer information
Plats: Maui, Hawaii
Varaktighet: 5 dagar