The Carmel Mission, or San Carlos Borroméo de Carmelo Mission, to give its full name, was originally not in Carmel at all. Father Junipero Serra founded the mission at the Monterey Presidio in 1770, making it the second of California's missions. It was moved to its current Carmel location on Rio Road, where there was better soil and water, the following year.
Although the mission was destroyed in the middle of the nineteenth century, it has undergone extensive renovations. Today the mission is a U.S. Historic Landmark, is listed on the National Register of Historic Places and is the only California mission to retain its original bell tower.
The mission is still home to a Catholic parish and, as well as holding mass several times each day, hosts regular concerts, art exhibitions and community events. Spanish Colonial liturgical art and artifacts are displayed throughout the church, which also features arched ceilings and thirty-foot altarpieces.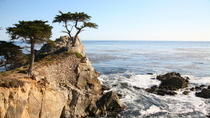 Glid fram längs Kaliforniens spektakulära kust under en avslappnande dagsresa från San Francisco. Du följer Highway 1 mot den vackra ... Mer information
Plats: San Francisco, Kalifornien
Varaktighet: 10 timmar 30 minuter
Språk:

Engelska