Mission San Xavier del Bac
Located in nearby Tucson, Mission San Xavier del Bac is a Spanish Catholic mission dating from 1692 when it was founded by Father Eusebio Francisco Kino, a Jesuit missionary. At the time the area was an Indian village, and Kino was the first non-Indian to visit the place, which was then known as Wa:k (although he wrote "Bac,"). It is he who called for the construction of the church, named in honor of San Francisco Xavier; however, the church needed to be rebuilt after 1770 due to destruction from Apache attacks.
Because at this time Spanish Jesuits were banned from the Americas, it was rebuilt under the eye of the Franciscans. This is a unique facet of Mission San Xavier del Bac, as it's one of the few Arizona missions still led by Franciscans, with mass still taking place. Additionally, the church is touted as the oldest European structure in Arizona still intact, and often the country's best example of Spanish Colonial architecture.
Rundturer och biljetter
Se alla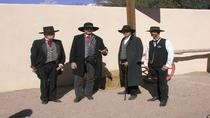 Återupplev legenderna i en av de vilda västerns mest kända städer Tombstone, Arizona, känd som "The Town too Tough to Die". ... Mer information
Plats: Phoenix, Arizona
Varaktighet: 12 timmar