San Diego Zoo
Packed into 40 hectares, the San Diego Zoo presents a stunning variety of nature's largest, smallest, noblest, oddest, and most endangered creatures. This famous zoo has more than 3,000 animals representing over 800 species.
Stop first at the San Diego Zoo visitor center to pick up a map. Highlights of the zoo include the Tiger River bioclimatic exhibit, which realistically recreates an Asian rainforest environment, and Gorilla Tropics, which does the same with an African rainforest. The koalas and the rare giant pandas are also popular.
The gardens at the San Diego Zoo are renowned and some of the plants are used for the specialized food requirements of particular animals. Especially for kids, the Children's Zoo allows young ones to pet small critters; they will also enjoy the animal nursery, which shows off the zoo's newest arrivals. For an aerial perspective on the park, take a ride on the Skyfari.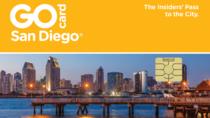 Go San Diego™ Card har något för alla, med tillträde till 43 turistattraktioner, aktiviteter och rundturer i San Diego! Besök San Diego ... Mer information
Plats: San Diego, Kalifornien
Varaktighet: Varierar
Språk:

Engelska

Svenska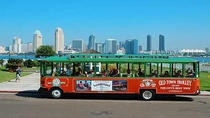 Upptäck San Diego i din egen takt med en endags- eller tvådagars biljett till hop on/hop off-rundturen. Skapa din egen resplan och se de ... Mer information
Plats: San Diego, Kalifornien
Varaktighet: Varierar
Språk:

Engelska