Marvel at the majestic profile of Half Dome, climb the mighty mecca that is El Capitan, or hike into Tuolumne Grove, where gigantic, stunning Sequoia's surround you. Immerse yourself in the drenching mists of Yosemite Falls, the gemstone lakes of the high country's subalpine wilderness, and Hetch Hetchy's pristine pathways.
There are walking trails everywhere, flat and steep, short and long, waterfalls to see, and beautiful swimming spots on the river. There are bike trails throughout the valley, dead flat, and on a hot day mainly off the roads and under the forest cover; the coolest spot to be.
Clearly there's a lot to do and see in this expansive park. Enjoy the sights at a leisurely pace and extend your stay with an overnight trip, or even longer with 2 nights. This can be spent in the luxury of the Ahwahnee Hotel, or roughing it on a camping trip. The choice is yours just be sure to make the most of your time!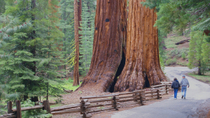 På vår tvådagarsrundtur till Yosemite Hotel får du tillräckligt med tid och möjlighet att se allt parken har att erbjuda. Det ... Mer information
Plats: San Francisco, Kalifornien
Varaktighet: 2 dagar
Språk:

Engelska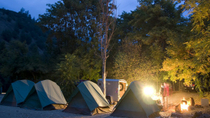 Utforska USA:s favoritnationalpark under en tre dagar lång campingtur där ni lämnar de mest välbesökta stråken och siktar på ... Mer information
Plats: San Francisco, Kalifornien
Varaktighet: 3 dagar
Språk:

Engelska
Se alla Multi-Day Yosemite Tours from San Francisco rundturer och biljetter