Boeing Space and Flight Center
Through the interactive learning zones of the Future of Flight Aviation Center Gallery, you'll learn just how far we've come in aviation design and where we're headed to in the future. The Boeing Tour is a one-of-a-kind opportunity to view 747, 767, 777, and 787 jets being assembled right before your eyes.The museum has a gift shop, restaurant, and a library dedicated to aviation.
Begin your journey in the Airplane Design Zone, where you'll learn all about the technological nuances and design innovations of powered flight. Step up to one of the design zone computers to begin digitally designing a commercial jet of your own. Then "taxi" on over to the other Gallery zones where you'll be able to modify, test and finalize your design at touch-screen computers before printing off the final schematic of your jet.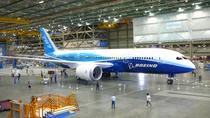 Älskar du att flyga? Nu kan du ta en rundtur till fabriken där man bygger och testar de berömda Boeing-flygplanen! På den här ... Mer information
Plats: Seattle, Washington
Varaktighet: 4 timmar 30 minuter
Språk:

Engelska
Se alla Boeing Space and Flight Center rundturer och biljetter