Justice and Police Museum
Hands up! Housed in a historic building that served as a police office and court from 1856 to 1888, the Justice and Police Museum now shows the judicial and criminal history of New South Wales. This chilling subject is reflected in the interior design: spiked gates, narrow door frames, winding staircases and a fairly scary cell block are all among the main features of the building. Here, you can step into the dark side of Sydney's past and see an impressive collection of murder weapons, a gallery of defendant mug shots and learn about the stories left behind by judges, officers, thugs and crooks.
In the 1850s, the convict transport to New South Wales had just ended, but crime was on the rise and the cases were notorious. Innocent or guilty, rough criminals or simply unlucky people—they all passed through this building, and law and order was maintained.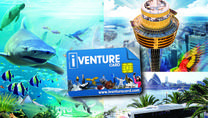 Vill du se operahuset, SEA LIFE Sydney Aquarium, Taronga Zoo, Sydney Harbour och en massa annat? Ett Sydney-sevärdhetskort är bra att ha med sig ... Mer information
Plats: Sydney, Australien
Varaktighet: Flexibel