Madame Tussauds Sydney
The famous wax museum, Madame Tussauds, with its incredibly life-like wax figures of famous people, can be found all over the world. Sydney was added to the list when this location opened its gates in 2012.
Australians and visitors from all over the world can take the opportunity to stand next to their favorite glitz and glamour star. From TV personalities, famous sport players, musicians, actors and A-List celebrities to world leaders, scientists and the key players in world history –the wax museum lets visitors meet a wide range of personalities from different fields and time periods.
In addition to international celebrities such as Angelina Jolie, Barack Obama and Michael Jackson, Madame Tussauds in Sydney also makes an effort to include local personalities. The history zone is filled with founders and well-known names from the times of colonial Australia. In addition, next to Kylie Minogue, you can also find the stars of the Australian sports and media scene.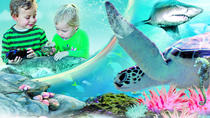 Besök två, tre eller fyra av Sydneys mest populära sevärdheter, som du väljer, i egen takt med Sydney Combo Pass. Välj mellan SEA ... Mer information
Plats: Sydney, Australien
Varaktighet: Varierar