Sydney Harbour Bridge Pylon Lookout
In addition to the Bridge Climb, there is a cheap alternative to get the famous view from the top of town on the Sydney Harbour Bridge–the Pylon Lookout. The bridge walkway leads to the South East Pylon and to the entrance of the lookout, from where 200 steps lead up to the viewing platform located 285 feet above sea level.
From here enjoy fantastic panorama views of the Opera House, Circular Quay and the two arches of the Harbour Bridge. You'll also be able to observe the daring bridge climbers. The Pylon Lookout doesn't only consist of the viewing platform though, but is made up of three levels of exhibits. A visit to the small museum located inside the Pylon is included in an admission ticket and includes information about the history and construction of the bridge, including the dangerous working conditions of the riveters, stonemasons and riggers who constructed it. Hear incredible stories, such as the tale of a worker who survived a fall from the bridge.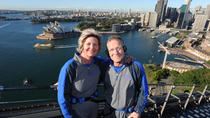 Klättra upp på Sydney Harbour Bridge med en kunnig guide för den ultimata upplevelsen i Sydney. Se fantastiska vyer och lär dig allt om den ... Mer information
Plats: Sydney, Australien
Varaktighet: Varierar
Se alla Sydney Harbour Bridge Pylon Lookout rundturer och biljetter