WILD LIFE Sydney Zoo
Australia is home to some of the world's cutest and most dangerous animals – and you can find them all under one roof at WILD LIFE Sydney Zoo. Housing hundreds of unique Aussie critters, the zoo takes you on an adventure trail through the many different habitats of Australia introducing you to the animals that live in each. You can expect to see kangaroos, koalas, wallabies and a family of adorable wombats, as well as the decidedly less cuddly snakes, spiders and crocodiles; including Rex, a huge saltwater croc.
You'll gain a greater understanding of the sheer size and diversity of Australia's animals and landscapes as you follow a trail through the Butterfly Tropics, Gumtree Valley, Daintree Rainforest, Wallaby Cliffs, Kangaroo Walk-About, Kakadu Gorge, Nightfall and Koala Encounters.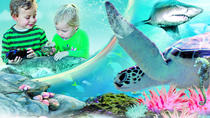 Besök två, tre eller fyra av Sydneys mest populära sevärdheter, som du väljer, i egen takt med Sydney Combo Pass. Välj mellan SEA ... Mer information
Plats: Sydney, Australien
Varaktighet: Varierar